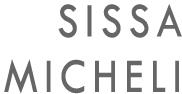 In ihrer Serie "On Transient Phenomena. The Folds of the Mind" erschafft Sissa Micheli mit fliegenden Kleidungsstücken faszinierende temporäre Plastiken, die in einem sinnlich dynamischen Spiel das Flüchtige und Vergängliche feiern.

Ausgehend vom Begriff der ins Unendliche gehenden Falte, wie sie der französische Philosoph Gilles Deleuze in seinem Buch "Die Falte. Leibniz und der Barock" (1988) beschreibt, zeigt Micheli Bezüge zur barocken Metaphysik: Laut Deleuze ist die Materie in äußerlichen Faltungen (replis) organisiert; der Vorgang der Perzeption hingegen bildet Falten in der Seele, die von innen mit Falten (plis) ausgekleidet ist. Hier wird ein Denken aufgezeigt, das den Vorgang der Faltung und Entfaltung thematisiert und das Geschäfts der Draperie betreibt.

Der wie ein Textiltropfen anmutende Seidenstoff stellt gleichermaßen eine Reminiszens an das Blau der Mäntel der Madonnendarstellungen der Renaissance dar. Lapislazzuli war jene Farbe, die durch ihre Kostbarkeit zur "spirituelle Farbe" wurde.

Die Arbeiten "On Transient Phenomena. The Folds of the Mind" versinnbildlichen zudem das Grundcharakteristikum der Fotografie, einen für das menschliche Auge nicht wahrnehmbaren Augenblick festzuhalten, visuell einzufrieren und ihm Bedeutung zu verleihen.